Delivery
We deliver by Singapore Post. 
Shipping Rates
Singapore
Ellysage offers 4 delivery options for all our customers to cater to your various needs. 
1. Normal Postage - 2-4 working days. A certificate of posting will be provided upon request for all orders mailed via normal postage.
2. Registered postage - 1-3 working days. A tracking number will be provided for all orders mailed via registered postage and will be updated in each order once the order has been dispatched.
3. Self Collection (Far East Plaza) - From 1 May 2013, customers can collect their orders from Blogshopping, Far East Plaza, #01-34. Orders that have been submitted and paid for by Saturday 2330hrs can be collected from Blogshopping on the following Monday. 
4. Self Collection (Jurong East)  - From 1 May 2013, customers can collect their orders from our ofice at Jurong East St 21, Blk 204. Appointments have to be made beforehand via email. Kindly allow for 1-2 days before collecting your parcel.

* With effect from 1 May 2013, Ellysage will cease to provide free regular shipping for local orders. For more information, please contact us.
* For purchase of 7 items and above, and mailing via Normal Postage or Registered Postage, kindly contact us.
International Orders
International postage rates are charged based on the number of items per order. Each order will be sent via our local courier and comes with a tracking number. More information on exact transit times are provided here. Please contact us if you have any other inquiries. The following postage fees are in Singapore Dollars (SGD).
Air Mail (4-12 days)

* With effect from 13 September 2012, Ellysage will cease to provide the Surface Mail (SEA) option for international orders. For more information, please contact us.
Tracking Your Order
Orders delivered with a tracking code can be tracked here. Below is a step-by-step guide on how you can track your order.
Step 1: Go to www.singpost.com and at the left column, click on the icon "Track Item"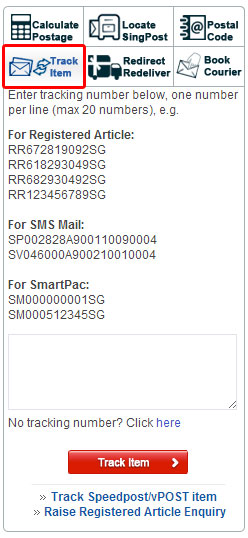 Step 2: Enter your registered article number in the box shown below and click the "Track Item" button. Your tracking code should start with RC and end with SG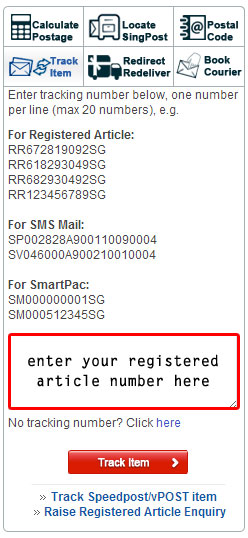 Returns
Every item is checked carefully before mailing. In the event that you receive a defective product, please immediately contact us at sales@ellysage.com with your order number and photos of the defective area. If it is eligible for an exchange, we will request for you to mail it back to us and will compensate you for the postage fees incurred. We will only be able to compensate normal postage fees and not registered tracking fees nor envelope fees. 
Unfortunately, Ellysage is not able to provide refunds for items that are bought in the wrong colour or size.